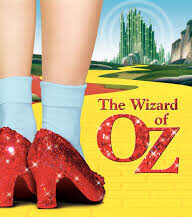 Over ten generations have grown up loving this classic tale of an enchanted land.  Fireside brings you an exciting stage adaptation of this legendary musical.  It's all all there – the good witch, the wicked witch, the cowardly lion, the tin man and the scarecrow, and the young girl from Kansas in search of home. Favorite hit song, "Somewhere Over The Rainbow".
All inclusive ticket of $137.00 per person includes:
motor coach,
lunch,
performance,
tax and gratuity.
Pick up locations and times:
Elk Grove 8:00AM
Streamwood 8:20AM
Crystal Lake 9:05AM
Johnsburg 9:20AM
Lunch Selections: Choose here.

To reserve your seat call Char at 262.853.0484 or email: [email protected]